Latest News...
Thursday, May 10, 2007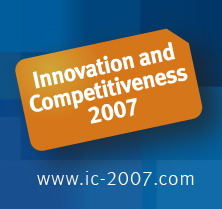 RomAdvice and FIP joint organizers of the IC-2007 conference!

Thursday, March 1, 2007
RomAdvice presents Successful strategies for public funding of projects at the Financing Solutions conference...

Past News...
... including The Making of RomAdvice, can be found on our blog

Company Profile
RomAdvice is a young, Romanian based, international consultancy, drawing on the experience and expertise of its three founding partners: Filip Hamerlinck, Luc Geukens, and Christian De Neef. Together, they share more than 45 years of consulting and management experience in Finance, Government, Information Technology and Manufacturing.

Based in Bucharest but with a strong foothold in Brussels, capital of the European community, RomAdvice is not only well placed to understand the needs of Romanian companies aiming for the European marketplace, to deliver services locally and internationally, but also to facilitate cross-border business relationships, especially with the Benelux countries, the UK & France, and the balance of Western Europe.

RomAdvice's mission is to deliver advice and implementation services for improved business & organizational performance, thus ensuring Romanian companies' success in the European marketplace.
RomAdvice is a full-service provider - from business case & funding to implementation & follow-up - and our clients may be confident that measurable business results are actually delivered.


RomAdvice is a pure-play consultancy - independent (and proud to be), we will only work with the best (both in Business and IT), relying on our extensive network of expertise.


RomAdvice has a hands-on approach - We don't do the quick & dirty fix. We don't write fancy reports. We're not interested in sticking plasters or moving the deckchairs. We are committed to implementing lasting change and realizing fundamental business improvements.


A RomAdvice printer friendly Company Profile is available in English, French, and Romanian.